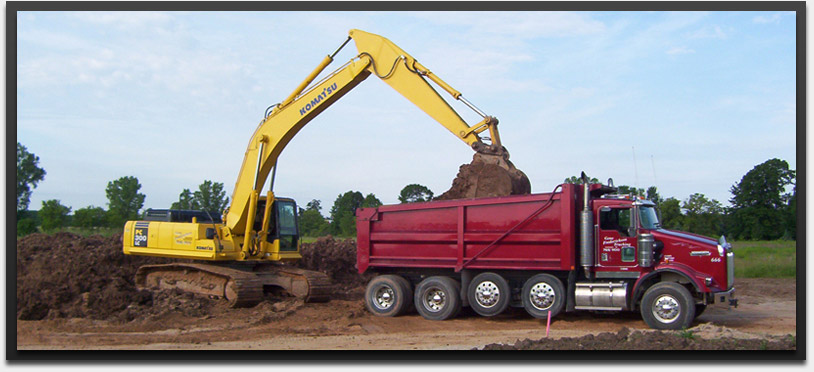 Excavating
Gene Frederickson Trucking & Excavating's long-standing business relationships with companies and people throughout the Fox Valley and east central Wisconsin can be accredited to our ability to bring ingenuity, experience and value to each project.
As one of the most established excavators in the area, Gene Frederickson Trucking & Excavating can provide the following:
Estimating, Consulting, & Project Management
Private & Municipal Road Development
Athletic Field Development
Landfill Construction, Development, & Maintenance
Storm Retention Pond Construction
BioPonds Construction
Private Pond Construction
Commercial and Residential Building
Excavation, Grading & Site Development
Sewer, Water, and Storm Utility Installation, Repair, Capping & Termination
Our success lies in our ability to combine skilled crew members with an executable plan and the right equipment. Even under tight schedules, we have the capabilities to complete large-scale earthwork projects such as shopping centers, industrial parks and office buildings. We have extensive experience with sports field development, storm retention systems, and BioPonds as well as a variety of smaller scale services such as private road development, foundation work, pedestrian trails, and ponds.
"Gene Frederickson Trucking and Excavation did an extraordinary job on our Menasha Youth Sports "Bringing Back the Pride" renovation project. As a non-profit organization we had limited internal resources to devote to the project. Grant Fulcer and the Frederickson team took up the slack and enabled us to achieve a very successful project outcome within our budget. We are appreciative of their support and fine workmanship."
Bill Raaths, Co-Leader
Revive the Menasha Pride Campaign
Call us for more information or a quote on your next project. Call us today at (920) 766-1100 for a quote or to find out how we can assist you on your next project.
---
Photo Gallery